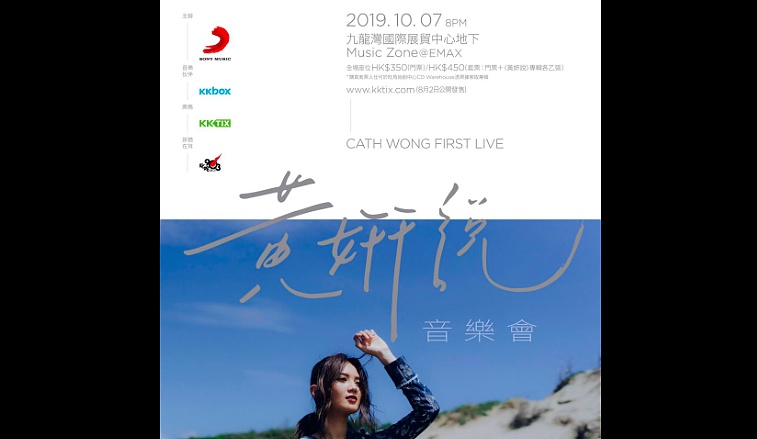 Cath Concert 2019
Kowloonbay International Trade & Exhibition Centre Music Zone
October 7, 2019
Updated on 2019-10-03 17:46
Date & Time
Monday, October 7, 2019 8:00 pm- 10:30 pm


Price
Full seat: $450 (set of albums) / $350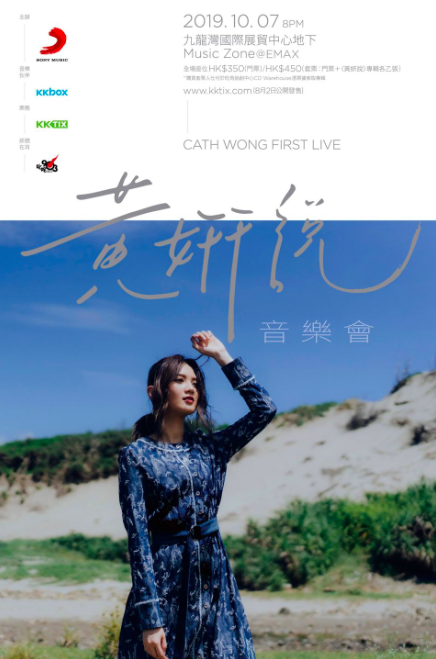 She understands composing lyrics, and with her self-study skills, the daring Cath is familiar with several Chords that Jay Chou often uses in her creations. She goes out to find opportunities to perform, or share her cover on the Internet. The work was finally invited to the performance by the Taipei Witch Shop and the riverside message of Taipei's famous performance venue. Cath has always been deeply infected by Taiwan's Wen Qingfeng and loves Taiwanese singers. For example, Jay Chou, Chen Yu, Wei Ruzhen, Lu Guangzhong, etc. are all singers of Cath worship, and often study their works.
" The concert" is actually named after Cath's first solo album "Huang Wei", which will be released on August 2nd (Friday). The album will also be released in Taiwan, in addition to the collection of Cath's debut. In addition to the first works of Guangdong and Mandarin, the essay collection "Wen Yu Wen" is included with the disc. Cath personally writes the feelings and stories behind the creation of each song.
*After purchasing the ticket purchaser, you can request a copy of the album at the CD Warehouse in Mong Kok.