---
Booking
Cancellable up to 1 hour before
New Customer Offer
45分鐘足底按摩+30分鐘頭肩頸+10分鐘薑湯足浴 (星期一至四上午11點到下午四點預約,公眾假期除外)
只限特定時段。如以此優惠預約其他時段,商戶有權拒絕提供服務
Detail
New Customer Offer
60分鐘足底按摩+15分鐘頭肩頸+10分鐘薑湯足浴(星期一至四上午11點到下午四點預約,公眾假期除外)
只限只限特定時段。如以此優惠預約其他時段,商戶有權拒絕提供服務特定時段。如以此優惠預約其他時段,商戶有權拒絕提供服務
Detail
New Customer Offer
30分鐘足底按摩+60分鐘全身按摩+10分鐘薑湯足浴(星期一至四上午11點到下午四點預約,公眾假期除外)
只限特定時段。如以此優惠預約其他時段,商戶有權拒絕提供服務
Detail
Introduction
About the Merchant
Foot Lam Moon is situated in Tsim Sha Tsui, where convenient transportation can be found. It only takes a few minutes' walk from the MTR station. Foot Lam Moon has been established for years. It strives to provide customers with a calmful and comfortable environment in the hustle and bustle of Hong Kong, and enjoy a variety of body care, treatment and massage services to achieve physical conditioning and relaxation. It is undoubtedly the inevitable choice for your massage!
Chinese style design
Foot Lam Moon deeply understands the importance of interior design in contributing to our customer's experience. Therefore, Foot Lam Moon has invested a lot of time and effort on the interior design of the store to make the consumer experience more enjoybale and unforgettable. The layout of the indoor environment is designed under the theme and decoration of Chinese style. Together with other Chinese-style furnishings, such as Chinese paintings, pillows designed in Chinese style, etc., the whole store is filled with strong Chinese atmosphere, which allows the customers to locate in an intoxicating and comfortable room in ancient China, with soft and comfortable lighting at the same time.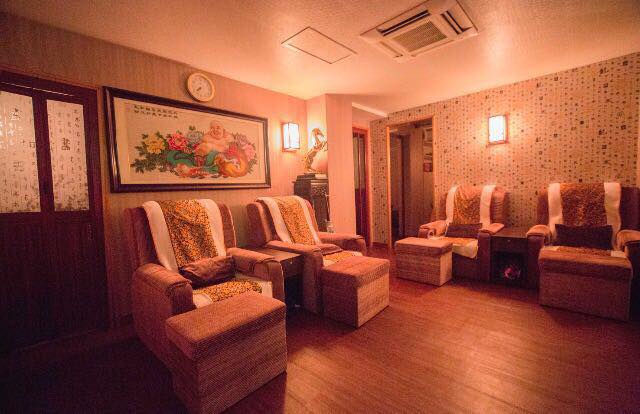 Chinese massage service
Foot Lam Moon mainly provides customers with a variety of Chinese massage services with worthwhile and reasonable prices, and these services are very effective in relieving your stress and foster your health balance. For example, the foot massage service can help you adjust your blood circulation, promote metabolism and improve immunity and health through professional and in-place massage by therapists. The other services of Foot Promenade have their own features functions to meet different needs of customers. There is always one that suits your needs and demand!
Near MTR
Good Reputation
Chinese-style
Comfortable Environment
---
---
Berry good I lenioy it so much
---
---
People also viewed
千尋 Massage
G/F 1 / F, Chun Yuen Building, 41 Hill Road, Tsim Sha Tsui (5 minutes walk from Jordan Station Exit D)
He-mu Spa
Unit B, 1/F, Beauty Mansion, 69-71 Kimberley Road, Tsim Sha Tsui
---
---
Information
Address
Flat B, 1/F, Hanyee Building, 19 Hankow Road, Tsim Sha Tsui
See in Map
---