---
Booking
Cancellable up to 4 hour before
New Customer Offer
Permanent Upper Lip Hair Removal Treatment
The world's most effective 755nm laser wavelength, only 6-8 times to achieve permanent hair removal effect#
Detail
New Customer Offer
Free Experience
Free experience of 2 personal hair removal parts + 1 free APS hair removal and skin rejuvenation treatment
Detail
New Customer Offer
Permanent Hair Removal Treatment for Underarms
The world's most effective 755nm laser wavelength, only 6-8 times to achieve permanent hair removal effect#
Detail
Introduction
Pandemic Precautions
【MORE BEAU ensures front line employees are covid-free】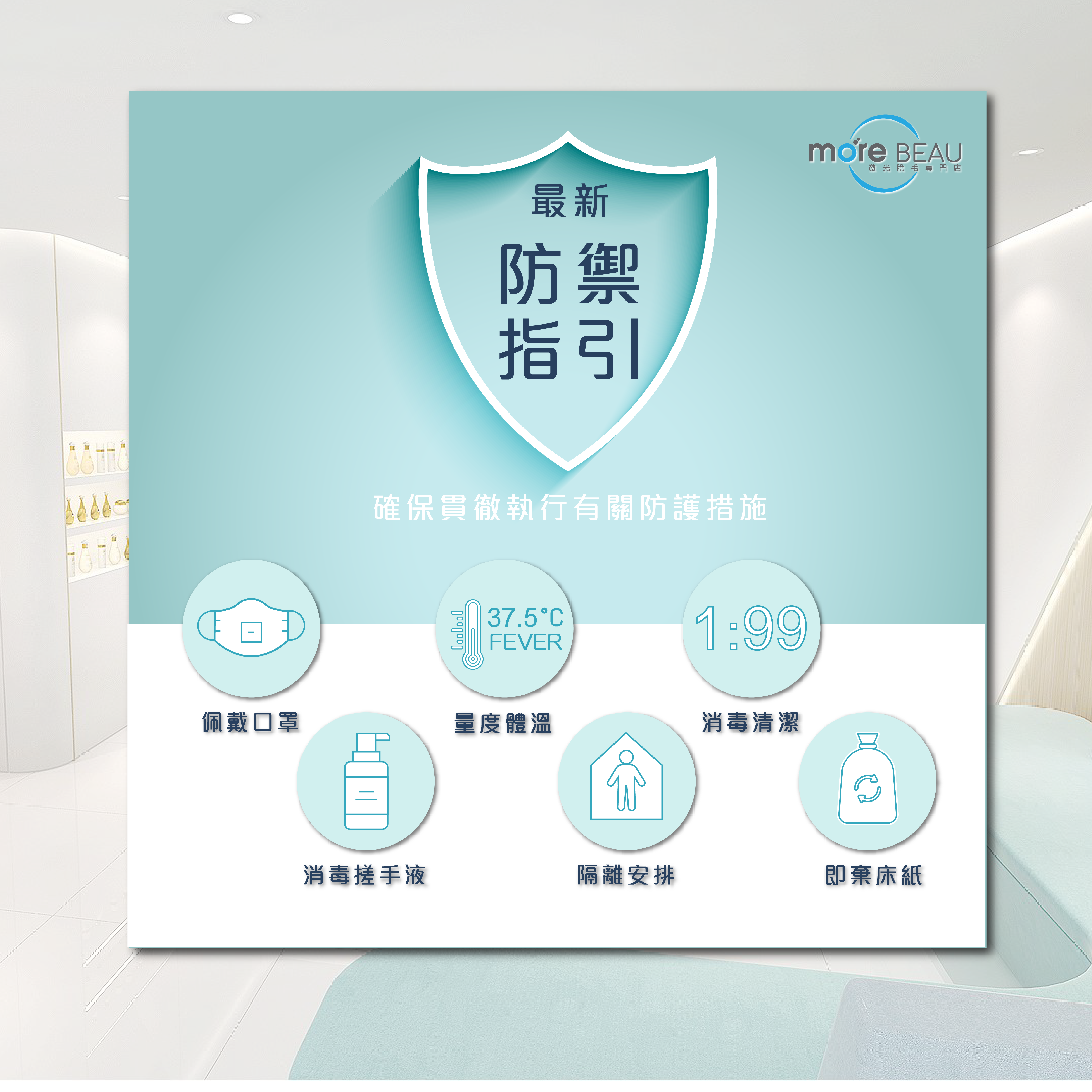 MORE BEAUis committed to providing customers with safe, quality service and periodically test our employees for covid-19 symptoms. The store exercises all covid-prevention measures to ensure customers can enjoy the treatments.
About the Merchant
MORE BEAU Laser Hair Removal and Beauty Center mainly provides laser hair removal and medical cosmetology services; the laser hair removal service is a treatment center directly authorized by CANDELA in the United States, using the latest generation of GentleLase PRO-U®️755 laser equipment and patented DCD freezing system. 100% of the optical therapists have been certified by CANDELA to provide customers with the highest quality and safe laser hair removal services.
「No Hidden Prices」MORE BEAU's mission,customers can check the prices and treatments and promotions on MORE BEAU's websites and there is no need to purchase additional treatments and products.
Service Promises

[Unlimited]
MORE BEAU laser hair treatment is unlimited and does not expire, customers just follow the growth period of the hair (usually once every 6-8 weeks) and 6-8 treatments can remove up to 80% of hair.
[Long-lasting Treatment]
MORE BEAU laser hair removal's prices include a lifetime warranty and will not ask you for additional fees, customers need only follow the growth cycle of the hair to schedule appointments.
[Transparent Prices]
The store uses authentic brand products, is trustworthy, affordable prices and the prices are listed on the website.
[Imported Technology]
MORE BEAU uses the latest generation GentleLase PRO-U®️755 laser hair removal device, which is recognized by the medical community and international dermatologists as the most effective laser device for permanent hair removal. DCD is an indispensable part of the GentleLASE Pro laser hair removal treatment; MORE BEAU uses 100% of the original freezing spray CRYOGEN to operate the DCD's freezing system. MORE BEAU has obtained the certificate of authenticity, giving customers the most peace of mind.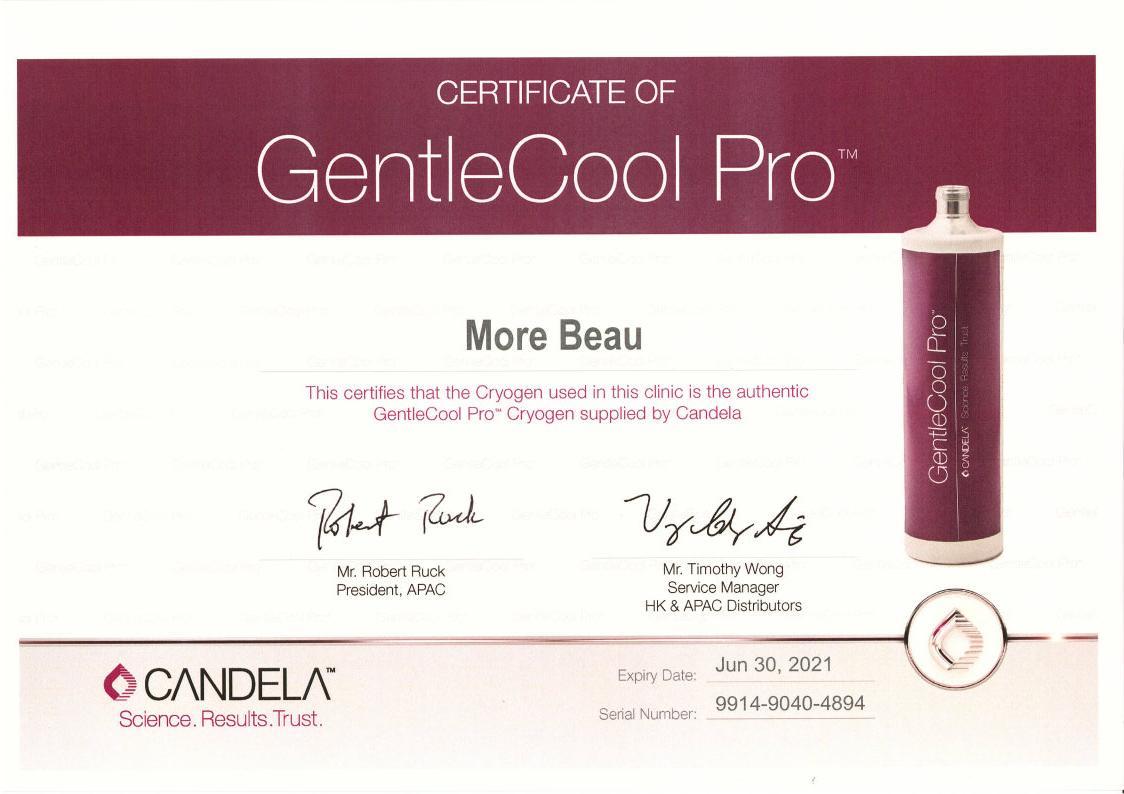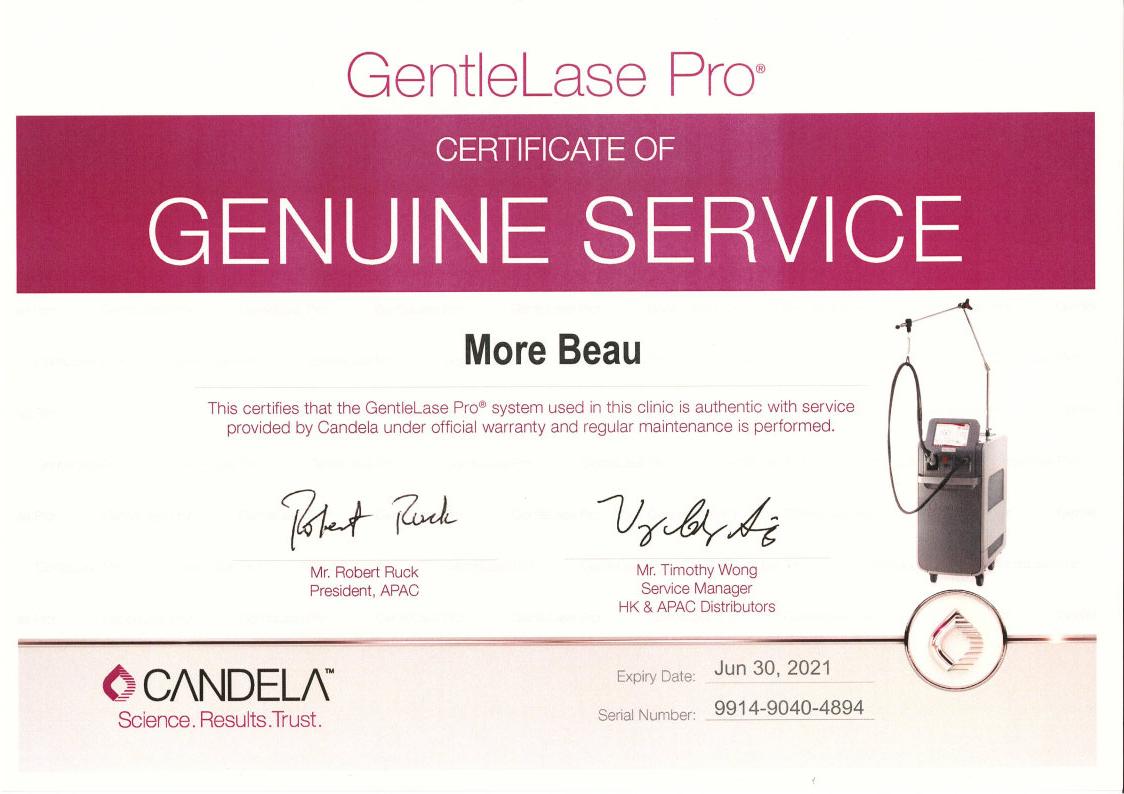 [6 times Treatment]
MORE BEAU treatments is licensed from U.S. Candela treament center and uses the latest generation GentleLase PRO-U®️755 laser hair removal device which is the current treatment equipment recognized publicly by internationally ranked dermatolists. Laser wavelength 755nm is the consensus on the most effective laser hair removal technology for yellow-skin tones and pink-base skin tones. 6 times treatment can remove 80% of the hair. TITLE: Heat Treatment
【GentleLase PRO-U®️755 Laser Hair Removal is Long Lasting】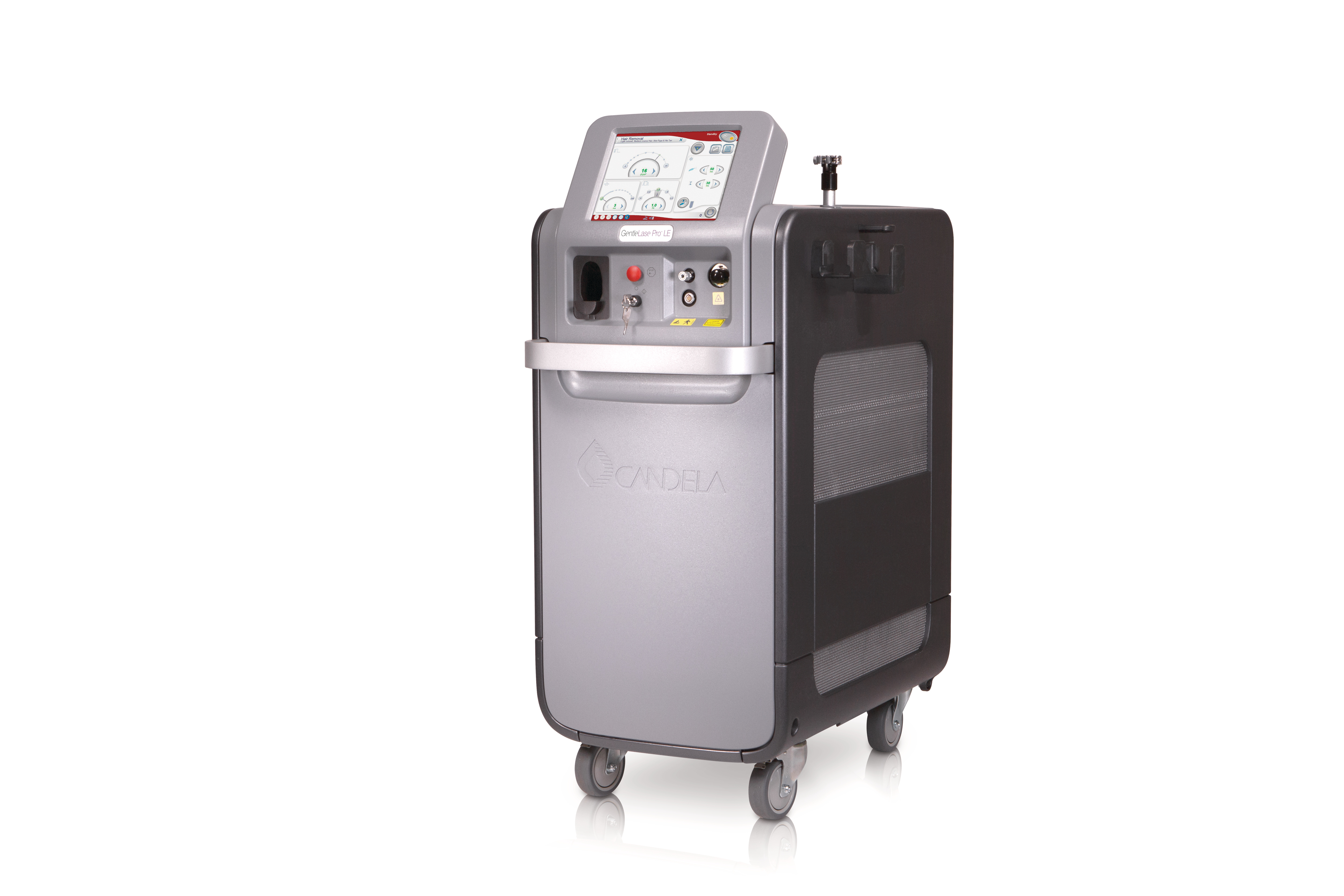 Hair Removal Comparison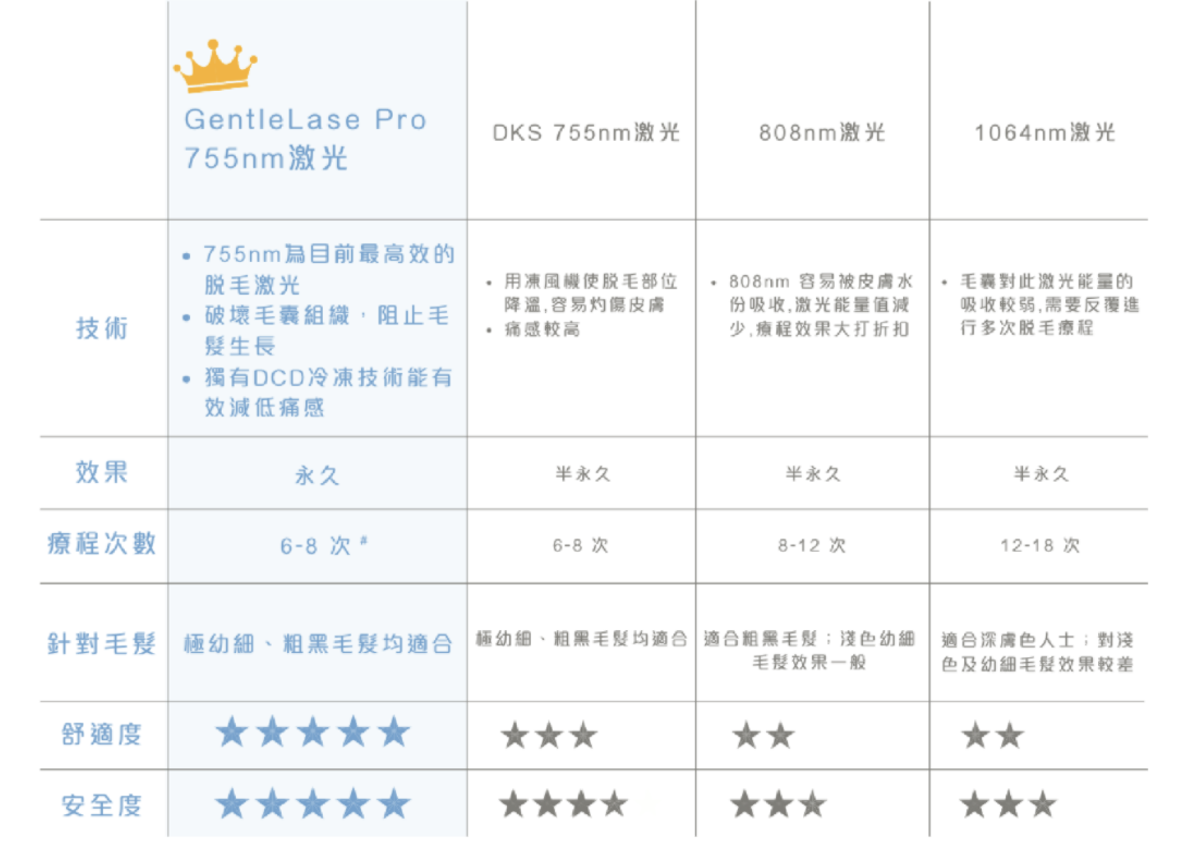 Hair Removal Process
Laser Hair Removal Speciality|Removal 7 steps |Free Trail
1.【DP Fruit acid skin regeneration treatment】
Instantly improve dark chicken skin muscle, hair follicle and promotes hair growth.
What is Keratosis Follicularis?
See https://en.wikipedia.org/wiki/Keratosis_pilaris
2.【Ultra V Sculpting and Firming Treatment】
One treatment can instantly tighten lower chin area and create a V-shaped face shape.
All new 360 degree anti-aging technology that makes you instantly younger
Treatment Benefits:
● No pain
● Instantly effective
● Unlimited times
● Korean KFDA
● EU CE certified
3.【Medical grade skin regeneration treatment】
Promote the self-renewal of collagen and the skin instantly regenerates itself
20 minutes Pore minimizing treatment
-
Treatment Benefits:
● remove blackheads
● lock in moisture
● eliminate acne
● minimize pores
● regeneration
● reduce wrinkles
● remove dark spots
-
4.【Non-Invasive Eye Muscle Backlighting Treatment】
One treatment will completely remove dark circles, droopy eyelids and wrinkles around theeye.
-
Treatment Effects:
● Reduce eyebag
● Eliminate wrinkles
● Erase dark circles
● Improve loose skin around the eyes
● Regeneration
● Remove water puffyness
● Soothee tired eyes
● promote eye contour
●
-
5. 【Collagen Freeze Age Muscle Gun Treatment 】
Protein regeneration, feel younger by 10 years
-
Treatment Effects:
● Improve skin looseness
● Reduce wrinkles
● Stimulate protein regeneration
● Smoother circulation of skin lymphatic
● Promote apple skin
● Define face contour
● Minimize pores
● Increase skin elasticity
-
6.【EP Protein Regeneration】
Natural enzymes gently exfoliate, regain firmness and smooth skin in 10 minutes
Improve skin x Remove wrinkles
The treatment combines natural plant active enzymes and the concept of "cavitation effect", which vibrates epidermis and subcutaneous cells up to 3 million times per second, changes the lipid structure of the skin, accelerates cell detoxification and eliminates waste. The 28-day skin renewal cycle is shortened to 3-7 days, with mild nature and remarkable efficacy. It is medically proven that it can effectively remove the cutin of the epidermis, purify the pores and prevent the accumulation of bacteria. The treatment course contains protein peptides, which can effectively activate skin cells, increase intracellular moisture, reduce skin inflammation, and at the same time, it is effective in anti-aging, and the skin is instantly smooth and delicate.-
Optical Certificate
Well-Known Equipments
PayMe Exclusive Discount
---
---
其實好怕去美容院,驚D staff好hard sell,但係脫毛自己真係搞唔掂。估唔到More Beau咁好,治療師細心唔hard sell,療程價錢唔貴但係脫毛效果好好,仲有永久保養,一定會介紹朋友去!
---
想脫bikini好耐,嗰日試咗V位之後可以即買即做,驚喜!
---
---
People also viewed
Maggie Beauty 旗艦店
Room1501-1502A, 15/F, Grand Century Place Tower 1, 193 Prince Edward Road West, Mongkok, Hong Kong
Yanis Beauty
Rm 1301, 10-12 / F, Tak Cheong Commercial Building, 215 Portland Street, Mong Kok
Yoyo Beauty House
Room 207, 2 / F, Po Ling Commercial Centre, 150-164 Ng Song Street, Jordan (1 minute walk from Exit C2 of Jordan Station)
---
---
Information
Address
Room A, F/20, Full Win Commercial Centre, Nathan Rd 573, Mong Kok
See in Map
Highlights
🔬
Professional Instruments
✔️
Internationally Qualified
🇪🇺
European Skincare Products
---