Simple Life Skin Firming & Lifting Beauty Pass
Enjoy 3 Skin Firming & Lifting Treatments in 1 Session
Original Price
Toby Discount
---
Service(s) Included
1 x Diamond Dermabrasion Treatment
1 x Korean 360 V Lift Treatment
1 x Italian B.L.V Collagen Stimulation & Skin Rejuvenation Treatment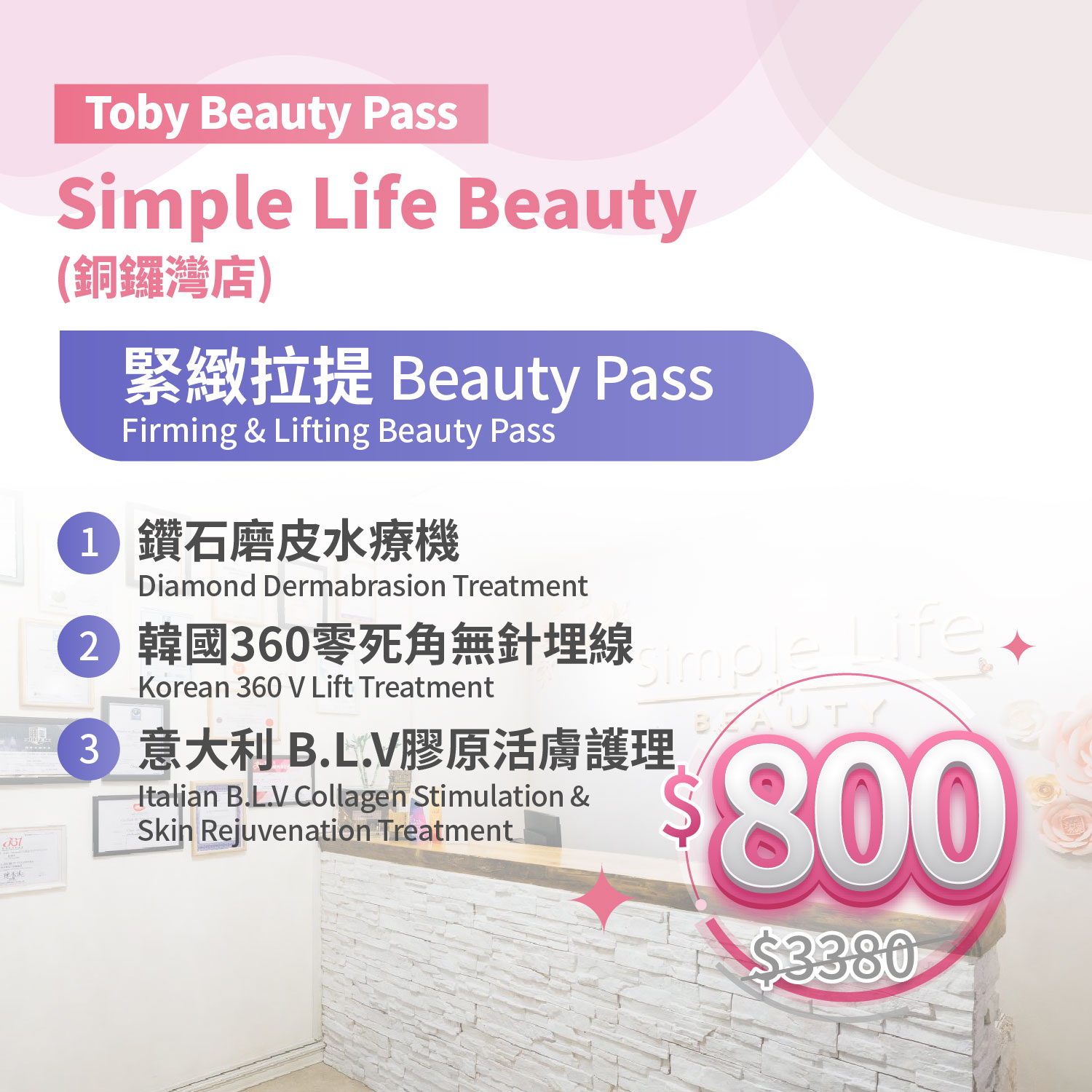 1. Diamond Dermabrasion Treatment
Using a diamond dermabrasion head and different levels of suction, this treatment can create friction to remove excess keratin, improve skin tone, treat dull skin, give a skin whitening and rejuvenation effect, and treat wrinkles, fine lines, acne spots, and enlarged pores to restore skin luminosity and smoothness. The suction can replace needle cleaning and AHA to remove dirt, grease, blackheads, and acne painlessly and promote lymphatic circulation on the face and around the eyes to reduce swelling, stimulate blood circulation, and promote metabolism.
Treatment for
-Folliculitis
-Blackheads
-Dull skin
-Enlarged pores
-Excess keratin
-Pigmentation
Efficacies
-Improves skin tone and treats dull skin
-Gives a whitening and rejuvenating effect and removes excess keratin
-Reduces wrinkles, fine lines, and acne spots
-Removes dirt, grease, blackheads, and acne from pores
-Refines pores
2. Korean 360 V Lift Treatment
This non-invasive treatment uses a Korean medical-grade HIFU device to stimulate collagen production and the SMAS to give a V-shaped face. It offers an instant lifting effect and allows you to apply make-up right away.
Treatment for
-Puffy face
-Swelling in the face
-Undefined jawline
Efficacies
-Gives a painless facelift
-Resculpts facial contour
-Stimulates collagen production
-Reduces eye wrinkles and worry lines
3. Italian B.L.V Collagen Stimulation & Skin Rejuvenation Treatment
This treatment uses all-natural products manufactured by B.L.V from Italy. The products have passed dermatological, clinical, and heavy metals testing and are guaranteed to be free of allergens, alcohol, petroleum, animal-based protein, colorant, and paraben.
Treatment for
-Dehydrated skin
-Coarse skin
Efficacies
-Revitalizes skin cells
-Restores skin to a watery and smooth state
-Provides an antioxidant effect
-Provides skin with a deep moisturization
-Restores skin to a fine and silky-smooth state
-Provides a potent antioxidant effect and battles free radicals
-Helps the skin to lock in moisture effectively
-Restores skin elasticity, fullness, and smoothness
Reminder
- New customers can only redeem this offer once.
- Please remember to arrive on time. There will be no make-up for any lost time.
---

Terms and Conditions
Effective Period
1. Bookings: Within the scheduled timeslot on the scheduled date 2. Vouchers: Within 60 days of purchase
How to Redeem
1. A confirmation email will be sent to you after successful payment. If you have purchased a voucher, please make a booking with the merchant at your earliest convenience. 2. Please present the redemption code from your confirmation email (can also be found under "Services" in your account) to the merchant to redeem the service.
Terms and Conditions
1. This voucher can only be redeemed once. It cannot be refunded or exchanged for cash and no change will be provided . 2. The effective period of this voucher cannot be extended. All expired and unredeemed vouchers are deemed invalid. 3. The redemption code must be presented to the merchant and verified for redemption. 4. In case of any disputes, Toby reserves the right of final decision.
Reminder
1. Please make your booking in advance. 2. The treatment should take 1 to 2 hours. 3. Please inform the merchant 2 days in advance if you need to reschedule. 4. A confirmation email will be sent to you within 5 minutes of successful payment. If you can't find it, please check your spam/junk folder. Please remember to mark all emails from Toby as "Not Spam/Junk".
---
Applicable to(1)
Address
Unit B, 5/F, Haywood Mansion, 57 Paterson Street, Causeway Bay