"One Song, One Hope" Charity Music and Life Sharing Society 2019
Kowloonbay International Trade & Exhibition Centre Exhibition Hall 3
October 7, 2019
Updated on 2021-10-25 22:48
Date & Time
Monday, October 7, 2019 7:30 pm - 10:00 pm


Contact
info@bvf.world
(+852)2155 2800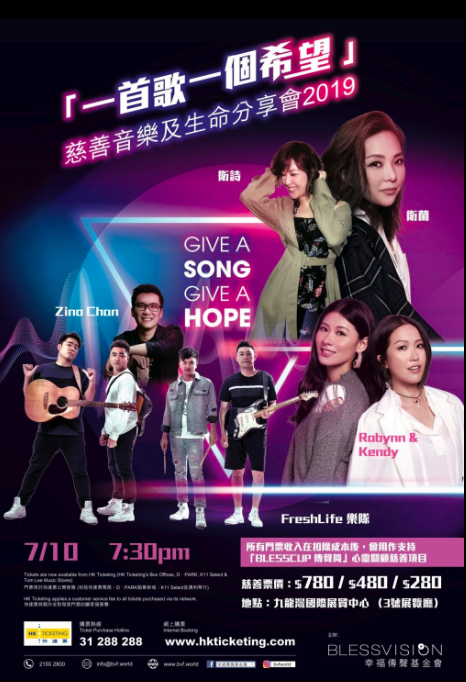 We need the voice of hope!
During this time, the society is full of many voices, many lose, disappoint, hurt, and break; but we believe that even in the ruthless situation, as long as we persist in love, we can still find hope and stand up again in the broken. Repair again in the tear, see the dawn in despair!
We believe in the influence of sound, music and songs. We hope that in this two-day period, we will gather and sing competitions and music sharing activities through the sharing of different guests; the original musicians' stories and songs, "hold on love, believe in hope" The power of every heart fills the whole city!
Performance and sharing guests:
Wei Lan|Wei Shi|Robynn&Kendy|Zino Chan|FreshLife
*All ticket income will be used to support the "BlessCup megaphone" spiritual care project after deducting the cost.
** "Sound Angel" has special offers, please pay attention to the latest announcement