Harmony Beauty Skin Firming & Lifting Beauty Pass
Enjoy 3 Skin Firming & Lifting Treatments in 1 Session
Original Price
Toby Discount
---
Service(s) Included
1 x Aquasure H2
1 x Rose V Line
1 x Ice Ageing Needle Free Treatment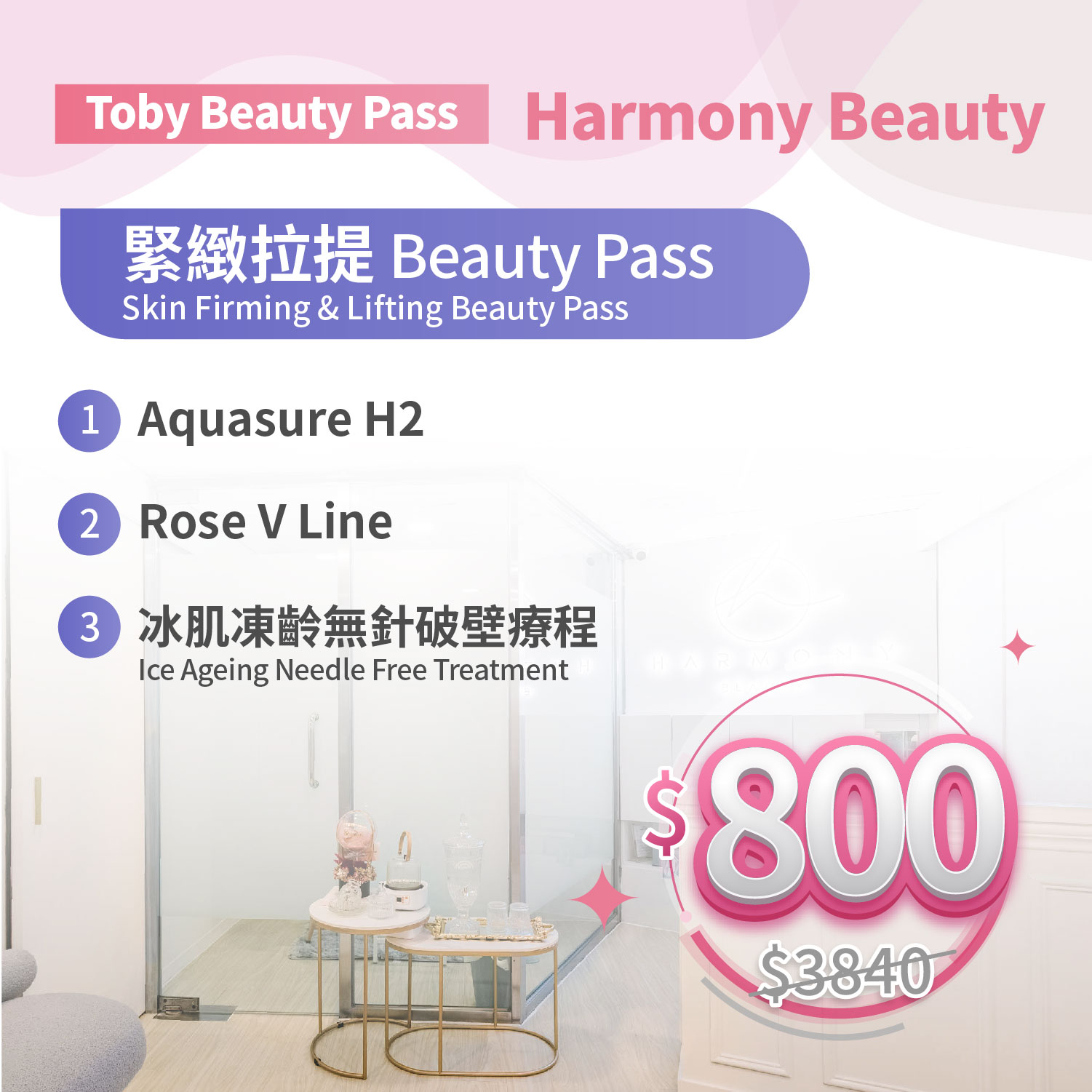 1. Aquasure H2
Japan's hottest hydrogen water treatment that cleanses and moisturizes at the same time, restoring the skin's smoothness.
The patented liquid electro-osmosis technology and the cyclonic two-way flow injection system can direct the "active hydrogen-rich water" and the unique AOS natural organic resurfacing essence deeper into the skin, and then direct the harmful substances to the skin and the oil and dirt in the pores, so that the skin can be rejuvenated and refined, creating crystal-clear and hydrated skin.
AquaSureH2's "Active Hydrogen Enriched Water" contains a high concentration of H2 (molecular hydrogen), and when H2 enters our bodies, the active oxygen is broken down and eliminated by H (atomic hydrogen), the active hydrogen. "Hydrogen Enriched Water" combines with excess oxygen to produce harmless water, which eliminates the active oxygen continuously generated in the body one by one, thus achieving miraculous effects such as highly effective antioxidant, promoting collagen production, relieving skin inflammation, accelerating cell metabolism and repair, and enhancing skin immunity.
Treatment for
-Dry skin
-Skin inflammation
Efficacies
-Hydrates and replenishes the skin
-Promotes the production of collagen
-Reduces skin inflammation (atopic dermatitis, eczema, inflammatory acne)
-Highly effective antioxidant
-Scavenges harmful free radicals in the body
-Whitening and moisturizing
-Treats and improves acne
-Gently exfoliates aging skin
-Smooths and refines skin
-Enhances the absorption of products into the skin
-Reduces acne formation
-Helps reduce pore size
2. Rose V Line
Unlike other needleless lines that deliver energy little by little, ROSE V Line uses exclusive MDT polarized lines to deliver energy, forming an invisible tension network in the fascia, instantly tightening the fascia layer, tightening the contours and smoothing wrinkles with more significant effects.
Rose V Line offers different peak modes, with a maximum frequency of 12Hz to shorten the treatment time and greatly reduce the pain, almost painless, and its treatment head is designed to fit closely around the eyes, taking care of different skin needs and with different depths to achieve more accurate, precise, flexible and significant skin revitalizing effects.
Treatment for
-Bao face
-Puffy jawline, not visible
-Relaxed skin
Efficacies
-Improve facial laxity and wrinkles
-Reduces puffiness under the eyes and tightens sagging skin around the eyes
-Tighten chin
-Dimensional face shape
-Contour Lift
-Improve wrinkles
-Collagen regeneration
3. Ice Ageing Needle Free Treatment
Using high pulse frequency, it can penetrate the cell membrane without interruption, which can quickly open 650 to 800 micro pores on the cell membrane, forming a temporary channel to keep the skin open in a few seconds, and pushing the nutrient molecules into the cell membrane, so that the active ingredients of the product can directly penetrate into the skin to enhance the absorption ability.
Treatment for
-Dull, dry skin
Efficacies
-Firms facial contours
-Reduces dry lines
-Eliminate edema
-Improves dull skin tone
-Restores skin brightness
-Plumps and hydrates skin
-Reduces shine
Reminder
- This offer can only be redeemed once by new customer.
- Please remember to arrive on time. There will be no make-up for any lost time.
---

Terms and Conditions
Effective Period
1. Bookings: Within the scheduled timeslot on the scheduled date 2. Vouchers: Within 60 days of purchase
How to Redeem
1. A confirmation email will be sent to you after successful payment. If you have purchased a voucher, please make a booking with the merchant at your earliest convenience. 2. Please present the redemption code from your confirmation email (can also be found under "Services" in your account) to the merchant to redeem the service.
Terms and Conditions
1. This voucher can only be redeemed once. It cannot be refunded or exchanged for cash and no change will be provided. 2. The effective period of this voucher cannot be extended. All expired and unredeemed vouchers are deemed invalid. 3. All services on this voucher must be redeemed on the same day. 4. The redemption code must be presented to the merchant and verified for redemption. 5. Treatment results and progress may vary depending on your skin and physical conditions. 6. A same gender massage therapist will be assigned to you. 7. If you are pregnant or injured, or have a headache, etc., please inform the massage therapist in advance. 8. In case of any disputes, Toby reserves the right of final decision.
Reminder
1. Please make your booking in advance. 2. The treatment should take 1 to 2 hours. 3. Please inform the merchant 2 days in advance if you need to reschedule. 4. A confirmation email will be sent to you within 5 minutes of successful payment. If you can't find it, please check your spam/junk folder. Please remember to mark all emails from Toby as "Not Spam/Junk".
---