The HelloToby 2.0 app comes with the brand new Listing Service feature, bringing users a fresh online shopping experience. Service Pros can customize their own service plans and sell them to consumers on HelloToby. It is a great way for Service Pros to expand their businesses in addition to the quoting model. Learn more about Listing Service now!

Benefits of HelloToby 2.0 to Service Suppliers
1. Endless services: Listing Service allows Service Pros to list the service of their specialties.
2. More ways for the Service Pros to reach out to their consumers (including quoting service and listing service)
3. Toby Wallet ensures secured payment for both Service Pros and Customer.
4. The Slash button allows users to toggle from Services Pros and Customers modes with ease.
How to update to HelloToby 2.0
Reminder:
1. HelloToby App 2.0 merges HelloToby App and HelloToby for Pro App together.
2. For users of the HelloToby App, all you need to do is to update the app to HelloToby App 2.0.
3. For users of the HelloToby for Pro App, the update option is unavailable. Please re-download the HelloToby App on iTune App Store or Android Play.
4. The HelloToby for Pro App will be taken off from iTune App Store and Android Play from 31 July 2017. Please download HelloToby App 2.0 asap.
How to upload a Listing Service
1. Click the "Slash" button at the bottom center of the page.
2. Choose "Offer a service".
3. Register as a pro or log in to your pro account.
4. Click "Create new service listing".
5. Click "Start".
6. Choose the services you wish to offer under different service categories. If you have not set up a profile for the relevant service, please do so.
7. Setting up a profile: Upload your profile picture, fill in the title of your profile and a self-introduction.
8. Choose the service location.
9. Describe your Listing Service in details: including the service headline, service details. We strongly recommend you to state a clear refund policy.
10. Set a price for the service you provide.
11. Choose the service location.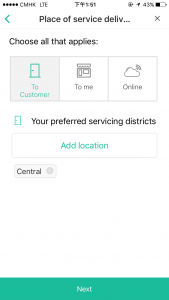 12. Upload 3 – 5 pictures relevant to your Listing Service.
13. Click "Compare Plans" to check out different monthly plans.
14. Directed to the HelloToby website to know more about the monthly plans
15. Click "List this package" to publish the package and click "Enquiry" to accept enquiries from consumers.
Above is the tutorial for the HelloToby 2.0 app and Listing Service. Take action and download the App from iTune App Store or Android Play now!
For more news and info on HelloToby 2.0, please bookmark HelloToby Blog and follow our Facebook Page!