Want to kick off your brilliant startup idea, meet eccentric like-minded entrepreneurs, and not having to worry about getting a convenient space to work, innovate and collaborate?
As an economic, innovative and financial center, Hong Kong offers spaces that attracts and caters to specific needs of freelances and entrepreneurs in recent years. Coworking space reshapes how and where professionals work – a cozy environment where individuals can get work done and network.
Let's get down to business and check out the best coworking spaces in Hong Kong!
1. theDesk – Keep it simple with 'Co-Work 2.0'
theDesk believes in the idea of "Co-Work 2.0". Keeping it minimalistic and not overwhelming the space with fancy decorations, which encourages high productivity without all the distractions.
This uniquely minimalist yet contemporary interior design illustrates the identity of theDesk – "A blank canvas, where people bring the color". theDesk focuses on building an inclusive community which connects members and partners to build meaningful business collaborations, creating a synergy between different corporations and sustaining good business performance and personal growth.
Address: 5/F, United Centre, 95 Queensway, Admiralty, Hong Kong
2/F, Strand 50, 50 Bonham Strand, Sheung Wan, Hong Kong
2/F, Kerry Hotel, 38 Hung Luen Road, Hung Hom Bay, Hong Kong
20/F, Leighton Centre, 77 Leighton Road, Causeway Bay, Hong Kong
14/F, One Hysan Avenue, Causeway Bay, Hong Kong
511 Queen's Road West, Sai Wan, Hong Kong
Features: Minimalist interior design of the space increases members productivity, and focusing on building an inclusive business community.
Rating: ⭐⭐⭐⭐⭐
2. YoofHex – All Sorts of Amenities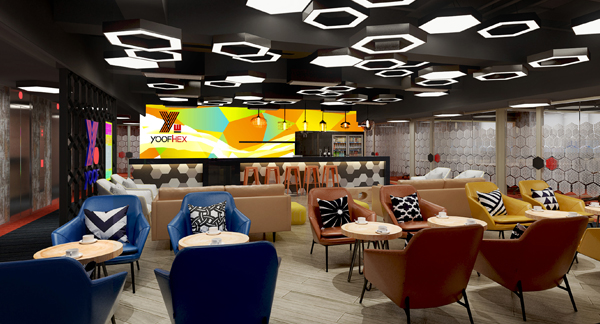 YoofHex is easily accessible via public transport and conveniently located in the busy Causeway Bay area (just 5 minutes away from MTR station). This office space is designed to lead to better problem-solving and rapid collaboration so members and companies can focus on the work, grow their business with flexible membership without high up-front costs.
Members in this coworking space includes invitations to events and activities across a diverse range of topics and interests, thus providing an opportunity to meet and network with like-minded professionals.
Including 24 hour access, high speed Internet, free flow mini Bar exactly in heart of the most vibrant, hustling neighbourhood in Hong Kong.
Address: Levels 14, 15 & 20, East Exchange Tower, 38-40 Leighton Road, Causeway Bay
Features: Over 17,000 sq. ft., spacious and cozy space, including offers such as hot desks, dedicated desk, office space, meeting rooms and venue rental (Max occupancy:70)
Rating: ⭐⭐⭐⭐⭐
3. Playground – Where Work Meets Play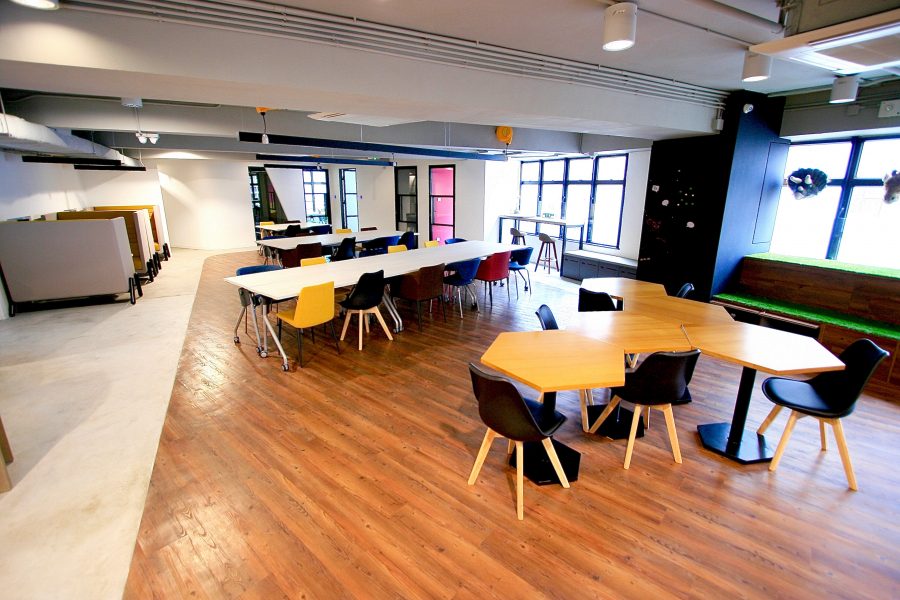 Playground.Work coworking space is located in Sheung Wan, 1 minute away from MTR station. Inspired by the theme "work is fun", the office layout on 11/F merges the coworking space with playful recreational activities – fulfill your work-life balance desires with Climbing Wall, Video Game Room… Suited for playful and creative freelancers and startup that embrace the "work hard, play harder" mentality.
Aside from the fun 11/F, private offices are available on the 21/F for quiet individuals and partners as well. Monthly rates range from $2,500 to $20,000.
Address: 11/F & 21/F, 244-248 Des Voeux Road Central, Sheung Wan (Hong Kong Island Branch)
Features: Funky and playful office space, Activity-Based Workspace and Fresh-brewed Cafe on-site
Rating: ⭐⭐⭐⭐⭐
4. VIVA Co-Working Co-Learning Space@V&G – Corporate Service Support with Educational Atmosphere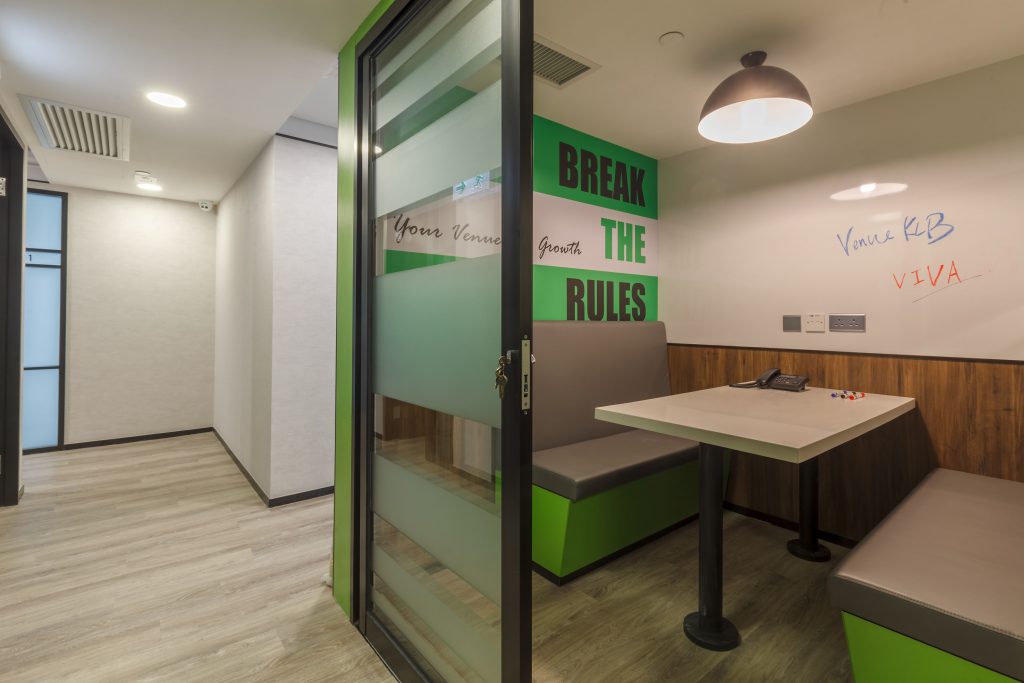 Is it that time of the month and you wanna skip the hassle for payroll calculation? Or need logo design or product shooting for your budding business? VIVA coworking space provides one-stop professional services including accounting, HR, IT, and even travel arrangement support.
More importantly, it is well established to be the perfect education hubspot – the clients here are foreign languages teachers, NET Teachers Agencies, exams and interviews preparation classes and even large-scale tutorial centres using our virtual offices.
VIVA welcomes to offer discounts if your business are related to education. Whether you are only the one or group, they provide one hour to long term booking of different kinds and sizes of private meeting, classrooms and services offices(from 1 on 1 to 60 pax spaces) in three branches of Kowloon!
Address: Room 222-225, 2/F, MegaCube, Kowloon Bay, Kowloon (Kowloon Bay Branch – VIVA)
6/F Woon Lee Commercial Building, No. 7-9 Austin Avenue, Tsim Sha Tsui, Kowloon (Tsim Sha Tsui Branch)
1701-2, 2703 New Trend Centre, 704 Prince Edward Road East, San Po Kong, Kowloon (San Po Kong Branch)
Features: Flexible Rental – Hot Desks/Private Office Rooms, Business Support (Secretarial), Corporate, Conferencing Services, Education-related Special Offers
Rating: ⭐⭐⭐⭐⭐
5. Ooosh – Cradle for Startups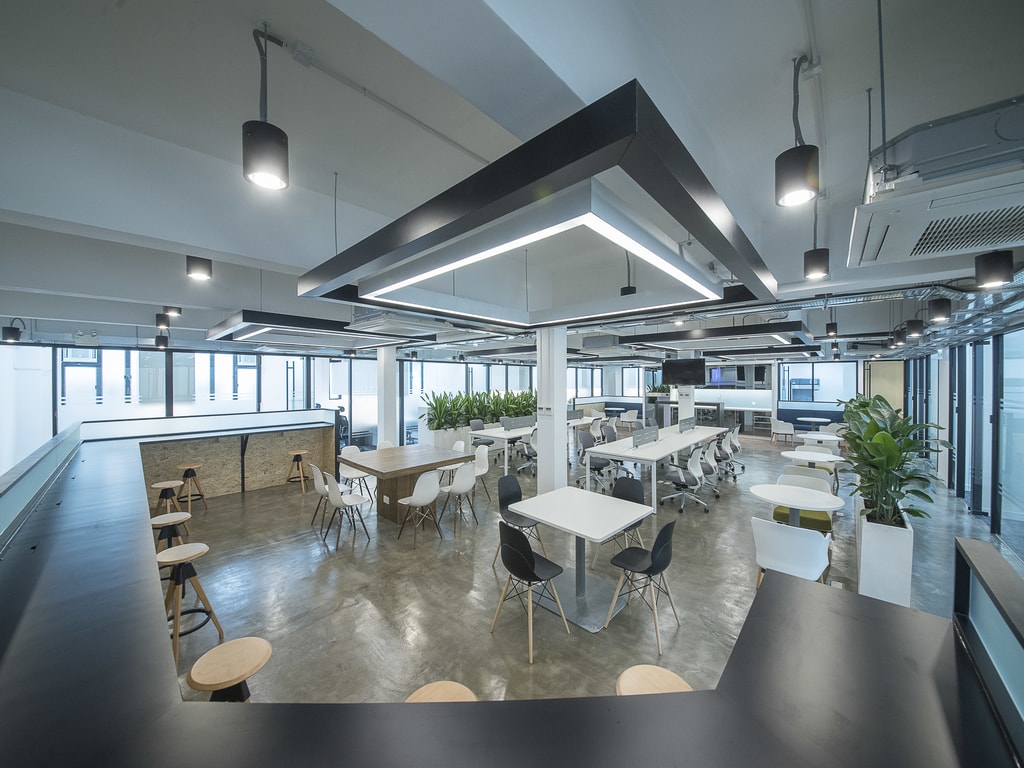 Ooosh is a coworking space that allows creativity to flourish and jump start your brilliant ideas. House to entrepreneurs, tech talents such as engineers, web/app developers and so on in the co-working community. Regular workshops and networking events specific for startups and tech companies to grow their business in a diverse space.
Similarly, hot desks, private offices for different individual's needs; conference meeting rooms and venue rental services available upon request. Don't have a clue how to kick start your business idea? Ooosh launched an incubation programme along with Catalyst Venture, they are here to help startup to gain traction, connections and business strategies!
Address: 6/F, 101 King's Road, Fortress Hill, Hong Kong (Hong Kong Island Branch)
Unit 803, 8/F, 479 Castle Peak Road, Cheung Sha Wan, Kowloon (Kowloon Branch)
Features: Over 16,000 sq. ft, facilities like Standing desks, Apple TV, Meeting rooms filled with Beam Bags, professional business and funding advisory.
Rating: ⭐⭐⭐⭐
6. Metropolitan Workshop – Vast Network in Hong Kong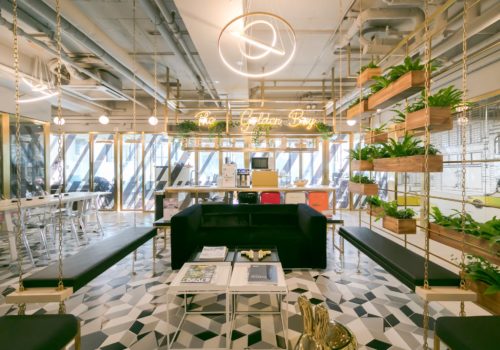 Metropolitan Workshop has one of the largest network of coworking space offices all across the city at convenience of freelances and entrepreneurs. Every branch is themed and equipped with conferences rooms for private meetings and indoor studio for public events. Pick an environment best suited for you and customized service plan according to your preference now!
Each coworking spaces offers different services like Private Room, Dedicated Desk, Hot Desk and Virtual Office. Workshop room bundles charge from $500, shared-space rental plan include $800 and $1,500 offers, indoor studio charges from $200.
Address: 3/F, World Trust Tower, 50 Stanley Street, Central, Hong Kong (Central Branch – Cafe Le Lourve)
20/F, Silver Fortune Plaza, 1 Wellington Street, Hong Kong (Central II Branch – Despacito Central)
Unit 603, 6/F, Tower 1, Admiralty Centre, 18 Harcourt Road, Admiralty, Hong Kong (Admiralty Branch – The Golden Boy)
17/F, Tesbury Centre, Queen's Rd E 28, Wan Chai, Hong Kong (Wan Chai Branch – What A Beach)
917A, Block B, Sea View Estate, 2 Watson Road, Tin Hau, Hong Kong (Tin Hau Branch – Black & White)
Workshop 301, The Galaxy, 313 Castle Peak Road, Kwai Chung, Kowloon (Kwai Chung Branch – Studio 52)
Features: You can always find a branch wherever you go! Flexible service combination depending on your needs.
Rating: ⭐⭐⭐⭐
7. The Work Project – Chillest Work Space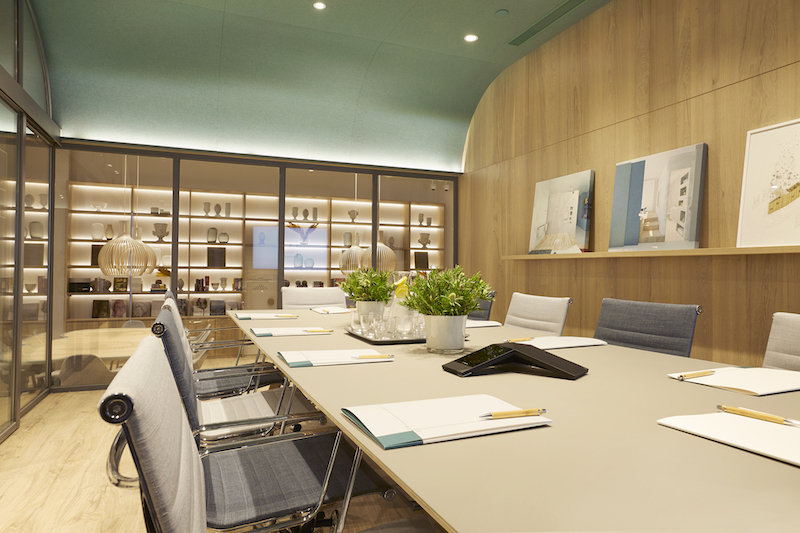 The Work Project is located right across Time Squares in Causeway Bay, known for its well-designed space that gives you a pleasant and cozy experience while working hard. The coworking space has a variety of adjustable office desks and the highlight – vertical garden in the courtyard designed by a French botanical pioneer.
Recognized as one of the five most beautiful co-working spaces in the world by Forbes, ready to be inspired by the tranquil and refreshing space in this concrete jungle. Daily pass to The Work Project starting from $350, monthly plan for mobile office charges from $2,250 or above.
Address: 15/F Soundwill Plaza II – Midtown, 1-29 Tang Lung Street, Causeway Bay, Hong Kong
Features: Designed by famous French botanical pioneer Patrick Blanc, 4-storey tall office space with capacity over 300 people (74 private work space and 80 mobile office desks).
Rating: ⭐⭐⭐⭐
Can't wait to book a free tour at the mentioned coworking spaces?
Coworking space service prices vary according to location, work desk and service amenities. Make sure to check out the service plans and prices before booking!
Besides the mentioned coworking space for professionals, there are also other co working space designed for students and freelancer. For example MyBASE – a work-study space with various workspace to choose from, perfect for students to have project meetings or freelancers to grind work out.
On the other hand, there is a one-stop portal for startups by the Hong Kong Government. Other than featuring co working spaces in Hong Kong Island and Kowloon district, the portal also guide to gain traction, funding and investments!
Looking for other services such as office interior design/renovation, conference equipment rental, or virtual office service? HelloToby can help you gather relevant pros in each industry to solve your needs at once!
Are you managing a co working space in Hong Kong? Go sign up as a pro on the HelloToby platform and list your coworking space now.
Lacking a chance to meet talents from different industries or expand your business knowledge? Stay tuned to our first " HelloToby Business Conference – Embrace" for professionals across industries. Additionally, the conference features experienced keynote speakers and networking sessions for 100+ industry representatives in order to drive new innovation and collaborative opportunities!
Limited Spots! Sign Up Now
——
Read More: 【 Career Path 】Top 6 skill development courses
Read More: 【 Work at Home 】The 10 Tips on finding a freelance job
Visit HelloToby Blog & Facebook Page for more tips and advice on Hong Kong daily life! You can seek help through HelloToby anytime and anywhere!